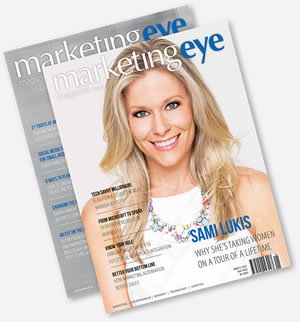 Marketing Eye has just released issue 2 of its groundbreaking marketing magazine with Australian media identity Sami Lukis on the cover. Marketing Eye magazine has a readership of over 100,000 print and online readers and will be placed in the hands of many influentual marketers, entrepreneurs and C-suite executives.
Marketing Eye is a magazine filled with informative stories from business leaders such as yourself and we want you to be involved.
The 84 page glossy magazine is delivered directly to entrepreneurs, Managing Directors, CEOs, Marketing Managers and Senior Managers with an income predominantly over $100,000 p.a. As a highly valued client, we want to give you a voice.
Marketing Eye magazine is a chance to talk directly to this influential market and tell them all about your business and how you can provide the best services in Australia to suit their needs.
Click here to buy magazine.